Salvation's Fire is a fantasy novel which is part of a series called After The War, published by Rebellion (UK).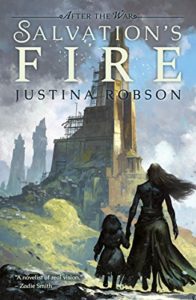 This story is set in a world created by Rebellion and Adrian Tchaikovsky (who wrote the first novel in the series, Redemption's Blade). Here's the blurb text:
"The Tzarkomen necromancers sacrificed a thousand women to create a Bride for the Kinslayer so he would spare them in the war. But the Kinslayer is dead and now the creation intended to ensure his eternal rule lies abandoned by its makers in the last place in the world that anyone would look for it.
Which doesn't prevent someone finding her by accident.
Will the Bride return the gods to the world or will she bring the end of days? It all depends on the one who found her, Kula, a broken-hearted little girl with nothing left to lose."
It's an ensemble adventure which takes place after the main events of a terrible conflict and in which those who remain try to pick up the bits of their lives. Of course, that's not easy given who they are and all of the other incredible artifacts that they're also picking up here and there, some of which have minds of their own.
I'd love to know what you think of it so do pop on a comment if you have the time and if you want to discuss anything we can do that below so there are no spoilers here!